Admissions Online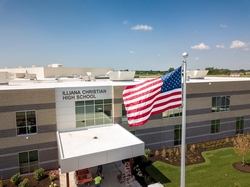 Illiana Christian High School's Application for Admissions
We are now accepting applications for 2021-2022! Create an account and apply today. If you have any questions, please contact Marie Limback at 219.558.7066 Ext. 49 or mlimback@illianaweb.org.
Thank you!
How to Get Started
To begin the Online Application process, create an Application Account by clicking on this link: Create an Account. To create an account, you will need an email address.
Current Illiana families do not need to create a new Application Account and should simply log into their Family Portal/Parents Web and click on Apply/Enroll.
How to Apply
Once you have created your account, log in and click on Create a New Student Application. After this, read the instructions for the online application and begin filling out each question.
Please Note: Your work will save and you can log in and out freely. You cannot edit your responses once you have submitted an application, but you can upload the supplemental documents. After submitting the online application and the two supplemental documents, Marie Limback, Director of Admissions, will contact you via email or phone to discuss your next steps.
Visit Options
We highly encourage you to visit Illiana! It's a great time to interact with current students and ask all the questions you have in order to make your high school decision. Below are three different ways you can visit. To schedule a Shadow Visit or tour please call the admissions office at 219.558.7066 Ext. 49.
Shadow Visit- Currently, shadow visits are not available due to Covid restrictions. Contact Marie Limback for other options for your middle school student.
Tour of Illiana- can be scheduled almost anytime!
More Info? Questions?
Should you desire more information than is available on our website, please Request More Information and our Admissions Office will contact you. We appreciate your interest and hope to assist you any way we can. If you have questions, please feel free to contact us at 219.558.7066 Ext. 49.
Non-discrimination Policy
Illiana Christian High School admits students of any race, color, national and ethnic origin to all the rights, privileges, programs, and activities generally accorded or made available to students at the school. Illiana Christian High School does not discriminate on the basis of race, color, national and ethnic origin in administration of its educational policies, admissions policies, scholarship and loan programs, and athletic and other school-administered programs.